Media
For more information about any of these news items involving Dr. Sears, click on the feature and you will be directed to the full story located in our News & Events section.
Intramedullary Nailing of Proximal Humerus Fractures
Enjoy this episode on Intramedullary Nailing for Proximal Humerus Fractures as Dr.Benjamin Sears gives us a great talk!
In this episode we talk about:
Shoulder anatomy
Relevant imaging for IMN proximal humerus
Humeral IMN implant types
IMN vs plating for proximal humerus fx
IMN humerus- operative setup
IMN humerus complications
Dr Ben Sears' is on faculty list in 2020 course in Snowmass
16th Annual Snowmass Upper Extremity Tutorial
An up close and personal experience in the reconstruction and rehabilitation of the upper extremity from a world renowned faculty.
Dr Ben Sears' perspective has been featured in this recent article on Healio.com
This is a retrospective case series evaluating outcomes for five elderly patients who underwent hemiarthroplasty for comminuted, intra-articular distal humerus fractures. This injury can be challenging to treat with open reduction and internal fixation, and total elbow arthroplasty requires life-long postoperative weight-bearing restrictions that can be very limiting for most patients. Therefore, hemiarthroplasty is an appealing procedure, as it definitively reconstructs the injured bearing surface without the postoperative restrictions required with total elbow replacement.
Official Team Physician
Dr. Sears along with Dr. Raj Bazaz are the team physicians for the Major League Rugby team – The Glendale Raptors
About Denver Shoulder and Elbow: A Specialty Service of Western Orthopaedics.
Western Orthopaedics offers the only Shoulder and Elbow service in the Rocky Mountain region with two subspecialty fellowship trained Shoulder and Elbow surgeons. This unique service is highly focused on resolving common and more difficult shoulder and elbow problems while assuring the highest quality of care for our patients.
Dr. Sears requested to be faculty at 2019 Snowmass MeetingDate:
August 29, 2018
February 10-14, 2019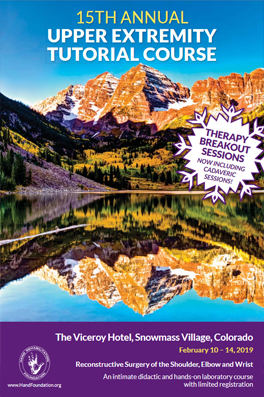 An up close and personal experience in the reconstruction and rehabilitation of the upper extremity from a world renowned faculty.
The course encompasses both acute fractures and secondary reconstruction. Clinical topics address and critically assess the latest clinical management of shoulder fractures, instability and replacement. Similarly, elbow topics range from complex trauma through contracture and other soft tissue problems to arthroplasty. The final two days emphasize the new developments in the treatment of distal radius fractures, including analysis and recognition of fracture patterns, optimization of fracture stability, options for fracture fixation, recognition and treatment of distal radioulnar joint injuries, treatment of associated carpal and soft tissue injuries. In addition, the course will cover prevention and treatment of complications as well as correction of malunions and both wrist and distal radioulnar joint arthroplasty. Didactic lectures, panel sessions, video surgery demonstrations and hands-on labs will provide the participant with the vital information to treat these problems.
Dr. Hatzidakis and Dr. Sears
Date: August 29, 2018
The Shoulder Service at Western Orthopaedics, lead by Dr. Hatzidakis and Dr. Sears, are collaborating with national leaders on two multi center clinical research trials. These investigations include collaborating with Case Western University in Cleveland on the evaluation of the importance of Vitamin D level and osteoporosis in patients undergoing reverse total shoulder arthroplasty. The other investigation involves collaboration with Rush University in Chicago and Duke University in North Carolina on the importance of physical therapy after reverse total shoulder arthroplasty. Patients are currently being enrolled in both clinical investigations
"An anthropometric analysis to derive formulae for calculating the dimensions of anatomically shaped humeral heads".
Date: July 17, 2018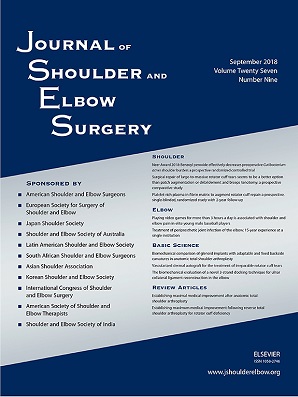 Background The elliptical shape of the humeral head has been vaguely described, but a more detailed mathematical description is lacking. The primary goal of this study was to create formulae to describe the mathematical relationships between the various dimensions of anatomically shaped humeral heads.
Methods Three-dimensional computer models of 79 proximal humeri derived from computed tomography scans (white subjects, 47 male and 32 female; ages, 17-87 years) were studied. Linear regression analysis of the obtained humeral measurements was performed, and Pearson correlation coefficient (R) values were calculated. To substantiate the results of the linear regression analysis, Welch t-test was used to compare various parameters of small, medium, and large humeral heads.
Dr. Sears opens a clinic in Arvada
Date: July 9, 2018
Come visit us in Arvada at:
Arvada Clinic - Two Ponds
9950 W. 80th Avenue #24
Arvada, CO 80003
Help us welcome Western Orthopaedics Physical Therapy!
May 2, 2017
Western Orthopaedics Physical Therapy
1830 Franklin Street Suite #400 (1 door over from our clinic).
Denver, CO 80218
Their hours of operation are from 7am to 7pm Monday through Friday.
Please call 303-253-7373 to make an appointment.
Dr. Sears chosen as a faculty speaker
October 26, 2016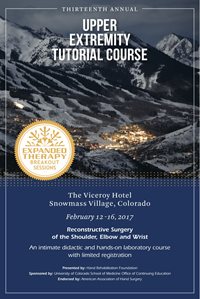 In February 2017 Dr. Sears will be a faculty speaker for the Snowmass Upper Extremity Tutorial.
Dr. Sears awarded a candidate membership
October 24, 2016
Dr. Sears was awarded a candidate membership to the American Shoulder and Elbow Society.
Congratulations Dr. Sears!
Dr. Sears speaks at the 12th Annual Upper Extremity Tutorial Course
February 7, 2016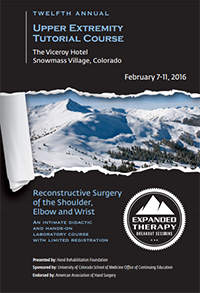 Dr. Sears will be talking at the 12th annual Upper Extremity Tutorial Course in Snowmass Village, CO February 7 - 11, 2016. His presentation will be regarding grade III A-C separation - To fix or not to fix? That is the question.