Patient Testimonials
Kevin
Having thrown the javelin in college and playing other sports like football my body has taken a toll. I was apprehensive about having a surgery, but I could no longer sleep at night because of the pain in my shoulder. I did some research as I wanted to know what was available in device's and from the physician perspective if I was going to get this done. I am super pleased about my choice of using Dr Sears and the short stem that he used to replace my shoulder. My recovery time was significantly less than what I had read about others dealing with. I was playing golf in 6 months with a full swing. If he could only fix my putting I would be on the tour now! Thanks Dr Sears and staff for making my shoulder whole again and taking the daily pain away!
RZ
RZ is a talented pianist and fencer attending high school in Boulder. When skiing at Steamboat Springs in March 2021 he decided to attempt a large jump. The jump looked great but the landing did not because RZ fell forward attempting to catch himself by reaching forward with both arms. The fall resulted in medical epicondyles avulsion fractures of both elbows where the 'bump of bone' on the inside of both elbows was torn off along with the muscle attaching to it.
RZ's mother heard from a work colleague that Dr. Sears was specialty trained in elbow surgery they arranged to see Dr. Sears. RZ was evaluated and Dr. Sears felt that the injury to the left elbow would not require surgery, instead it could be managed through bracing and slowing allowing elbow motion with oversight by an occupational therapist.
The right elbow did require surgical intervention to reattach the avulsed bone to its original position. After the surgery, in which 2 screws were used to reattach the avulsed bone, RZ's mom described Dr. Sears as a "Wizard" when it comes to elbow surgery as well as complimenting him on his communication with the family regarding progress of the surgery.
RZ's progressed extremely well in his recovery, regaining full motion of his left elbow and returning to fencing in 3 weeks. By early June he was able to return to piano performances and in November 2021 placed 3rd in a Denver Division fencing competition.
The family couldn't be happier with the care they received by Dr. Sears and the Western Orthopaedics team.
Your browser does not support the video tag.
Your browser does not support the video tag.
AC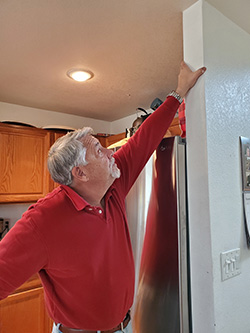 In December of 2020 AC was referred to Dr. Sears to evaluate his ongoing problems since undergoing the shoulder surgery in June of 2020. Prior to the surgery he was diagnosed with arthritis of his shoulder. He underwent a hemiarthroplasty in which the "ball" side of the joint was replaced. He said it was never quite "right" and he continued to have a lot of shoulder pain, clicking and popping. His shoulder motion was so limited he was not able to raise his arm up and he couldn't use the arm for any daily activities.
After a thorough evaluation including a CT arthrogram and aspiration of the shoulder joint, Dr. Sears recognized that AC had a fracture around the humeral stem, wearing of the glenoid ("cup") side of the joint as well as a large osteophyte (excess bone formation) affecting motion. In addition, the arthrogram was positive for an infection. Dr. Sears recommended managing the infection then revising his hemiarthroplasty to a reverse shoulder replacement so that Anthony could regain improved function of his arm.
AC underwent the reverse replacement in May of 2021 and has regained full motion of his arm. He is regaining his strength and looking forward to working on his golf game.
AC is extremely happy with the care he received, saying "When it's done correctly it makes a big difference"
Cynthia
In March 2017 I became a patient of Dr. Benjamin Sears who performed rotator cuff surgery on my left arm. I was very pleased with Dr. Sears at each appointment and prior to the surgery. He was very caring, encouraging and supportive with my PT progress. I was also pleased with the location of the surgery and the staff there. I would highly recommend Dr. Sears to anyone who needs this type of surgery.
Frank
Hi Doc, This is a very late but sincere Thank You for the wonderful job that you did repairing my shoulder and bicep tendon on my left arm. I purposely waited until now, the end of my grandson's little league season to send this.
Since May, my grandson, Jacob has played baseball and his father, my son Steve, has been an assistant coach and I have been a volunteer jack of all trades from time to time on the diamond. This generally entailed chasing misplayed batting practice grounders from Jacobs' 6 and 7 year old teammates and attempting to teach these future Derek Jeter's how to throw and catch rubber covered "hard" balls.
Because of you I have been able to fulfill two of my bucket list items, namely having a pain free catch with my son and my grandson.
I have included a brief video of my son and I having a catch. I'm still working on Jacob's fear of the ball and when that time comes (which will be soon, to be sure) I will send a follow up film. (I hope that you are able to open the file)
Thank you once again Ben, I can't begin to tell you how much this simple act of throwing a ball to both of these fellows means to me.
Anna
Hi Dr. Sears!! Wanted to let you know that with all your help I was able to have an amazing season! We just got back from our State meet up in Fort Collins where I was able to swim the 4x50 relay. I missed my individual qual time by .09 seconds in the 50 and was .3 off in the fly. So close! But I was able to get my name up on the record board with the relay. That was pretty cool. We took 7th in our relay and the team came in overall at 15th. Had a super fun time and I am continuing to get better (will definitely make state next season and hopefully zones this spring). :) Thanks so much
Carolyn
Hello Dr. Sears!! You wanted to know how my shoulder was doing. It's been terrific! I swim laps 3 times a week for 35 minutes. Your shoulder never gets tired or achy. The other shoulder does, a little, but it's fine thanks, no more rotator cuff surgery! My foot has also turned out great, no problems and it does it's work without any complaints. I am planning to take a trip to Hawaii in late fall; a week on a small boat snorkeling with the wild life and visiting the islands. Still miss seeing you, your encouragement made a huge difference to me. Hope you are well.
Eric
"Dr. Benjamin Sears did my total shoulder replacement and I could not be happier. From the initial consultation, through the surgery and all follow-up visits he always took the time to explain everything and answer all my questions to my total satisfaction. I would highly recommend him for shoulder surgery. I was in total pain prior to the surgery and now 6 months later I have full use of the replaced shoulder. Thank you Dr. Sears."
Sarah
A couple visits with Dr Sears, and my shoulder was getting scoped. I had a (difficult to find/diagnose) labral tear, discovered and repaired by Dr Sears and his dedicated team. He never gave up, or acted as though it was 'in my head'. He remained diligent in my treatment. I am now able to hug my kids, fish and garden after three years of pain. Thank you Team Sears! You have blessed this nurse and mom with purpose again, with your caring, compassionate team.
Nicholas
"In November 2013 I broke my arm while snowboarding in Colorado. The break was severe enough to require major surgery to repair the joint that had been broken into many pieces. With the surgery successful I was out of the hospital in 18 hours and back to work within 5 days. My range of motion was limited but streadily improved day after day. By the second month I was able to lift small objects and after 4 months I was able to move large objects. My range of motion improved evey month. At 10th months of recovery I have 90% of my motion back and I am doing all physical activities such as weight lifting, obstacle/runs, biking, hiking and camping. I am in no pain and after a morning stretch I'm as good as new."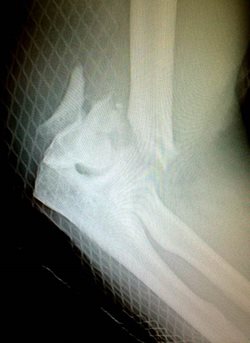 The following x-ray was taken in the emergency room following Nicholas' snowboarding injury. His elbow was broken in many places, and the fracture fragments are displaced so they would need to be "reassembled" and then held in place with orthopedic implants.
The following images are x-rays showing Nicholas' elbow after surgery. They show the fracture fragments back in place, held together by plates and screws. The image on the left was taken looking at the elbow from the front, with the elbow straight. The image on the left was taken looking at the elbow from the side.
These pictures were taken about 11 months after Nicholas' surgery to repair his elbow. He is able to use his arm to support his body weight and is well on his way to getting back to snowboarding.
Daniel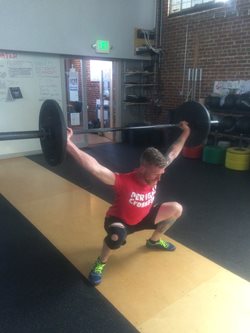 Benjamin W. Sears, M.D. did an incredible job (Latarjet/Coracoid Process Transfer). My shoulder would dislocate If somebody breathed on it in the wrong way. Now I have an arm that is stronger than it ever was before. I'll let the picture speak for itself. Thank you Dr Sears, great work!!
Bill
I write mostly about the joyous things in my life. However, being in the process of recovering from two shoulder replacement surgeries, I thought I would like to bring the benefit of my experience from a patient's point of view to anyone else having to do even one. I continue to add and edit as I learn. With these stories I have shared the humorous times, the realities and the successes — all parts of an inevitable path. Frankly, this is not an easy process; but you do have a choice, the easier or the harder way. I was curious, very naive, finding it very difficult before-the-fact to find objective information from a patient's point of view. Here is my path. I hope you will find my experiences helpful and encouraging, even though daunting.